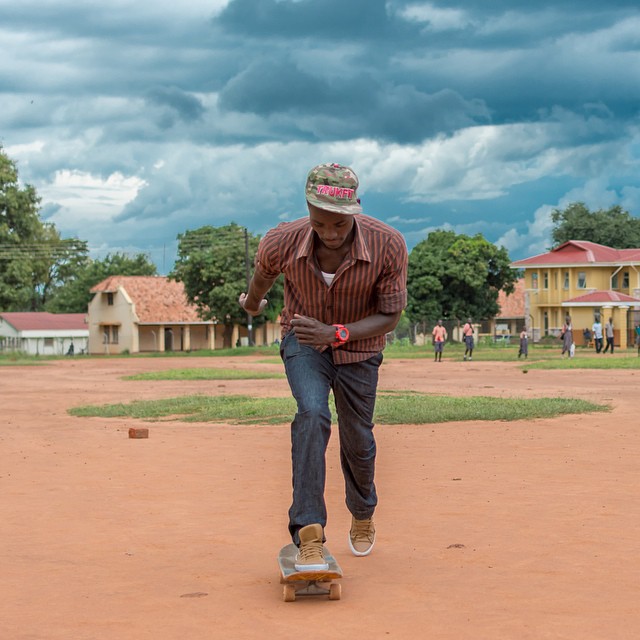 Uganda | Ambassador since 2015
In Gulu, Uganda, Odeke has been mentoring over 150 skaters for almost 6 years now and his passion is infectious. He runs the whole operation and created a safe place for kids to get together to enjoy the freedom of skateboarding.
There is a saying, If you need a friend, find COLLINS. Lots of people are named Collins, but only one is called Odeke. Due to the lack of resources and no real place to practice other than Bromah Grounds, a dusty open field made of orange clay shared by soccer players is used. The incredible triumph Odeke achieved was to get the Mayor of the Township to agree and welcome skateboarders on the grounds twice a week. Consider this as a feat in itself; Odeke has pushed the limits of collaboration and inclusivity to what may seem odd to his neighbours and community. His perseverance has brought him respect, and it shows in his leadership to unite his community under the Skateboards For Hope mission. 
The city of Gulu is located 6 hours drive from the capital, Kampala, and stands at the junction of the major roads to northern Uganda, South Sudan, and the Central African Republic, where there was a 40-year war. The children, many of them orphans and refugees, are treated to the sessions, and it's where they get to build relationships, life skills, and community. 
Odeke has been a beacon of light for many youths who need guidance from the temptations street life offers. The pandemic and rainy season have put a damper on the skate lessons lately, but any time the sun comes out, he races to bring the used skateboards to get in some practice and make it a better day with dedicated skaters.
Three girls aged 6-7-7 took on the biggest project in skatepark history in Scotland. They won the hearts of their community and brought awareness about building a future for girls skateboarding.
Manu has the energy and gnarliness of a fashionable skateboarder. Unapologetic, she pushes her boundaries and creates opportunities to be a better skater in a very competitive Brazilian vibe.
Maxx became the biggest collector of used skateboards determined to share his passion with children in Cuba. Little did he know his dream would come true.
Your support will bring education and joy to youth around the world. A simple donation can go a very long way in impacting children's lives for the better.