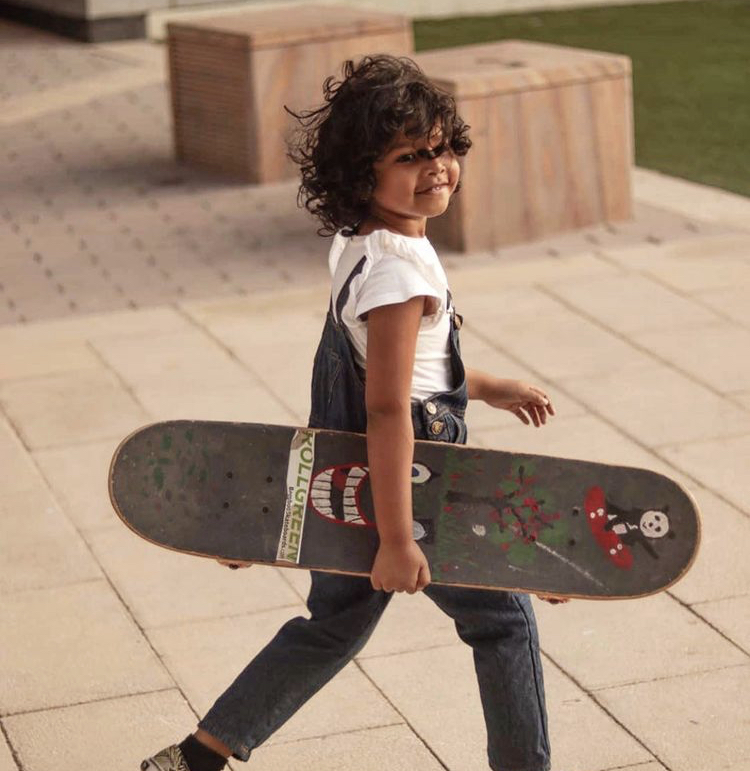 Our youngest ambassador, at five-years-old, Janaki from Thrissur, Kerala,India, is what some might call a prodigy.
She became Skateboards For Hope ambassador in 2020 at 4 years old and was already showing her determination to control her ollies and shuvits with her tiny feet. She demonstrates all the great qualities of confidence, perseverance and passion at such a young age. Janaki has made a big impression on older skaters in India where she went on a 5 city tour to promote skateboarding under the watchful eye of her Mother Jincy.
Alongside her parents and brother stationed in Dubai due to work, Janaki has been perfecting her skills in the underground garage while creating her own skate style. Skateboarding is in its beginning stages in India and it's important for more girls to get on board with its development and evolution.
Follow Janaki on Instagram
Maxx became the biggest collector of used skateboards determined to share his passion with children in Cuba. Little did he know his dream would come true.
In Gulu, Uganda, Odeke has been mentoring over 150 skaters for almost 6 years now and his passion is infectious. He runs the whole operations and created a safe place for kids to get together to enjoy the freedom of skateboarding.
Three girls aged 6-7-7 took on the biggest project in skatepark history in Scotland. They won the hearts of their community and brought awareness about building a future for girls skateboarding.
Your support will bring education and joy to youth around the world. A simple donation can go a very long way in impacting children's lives for the better.