It was overcast and lightly raining that May 5th afternoon. I jogged from the bus stop towards the steps of Rosemount High School. It seemed like only yesterday when Betty and I had trekked through crisp powdery snow, but signs of Spring had erased every trace of that long winter. The front door was welcoming, students in uniform sat on the steps just chatting, and I was greeted by many hand made signs showing me the way to the gallery upstairs.
The signs led me past another door, to a corridor filled with blue metal lockers, and then to another set of doors. Once I had pushed past the last set of doors, I was awestruck by the easels holding up paintings set up in a circular fashion. I had almost lost myself in art when I had spotted a table of crafts and a snack table managed by the students. I followed the sound of ambient and hip music into the adjacent room. I scanned the walls and tables not knowing where to begin, when suddenly a display of skateboard decks had caught my eye.
With my mouth agape at the vibrant and bold colors of the decks, I stared for a moment trying to process the emotions and thoughts flowing to my mind. I snapped back to reality when I was approached by Sabrina Bejba the grade 9 art teacher who lead this Fresh Paint inspired art project. She informed me that her students were so motivated to complete this project, they even spent time outside of class time to work on their individual boards. On the far wall of the room was a projection screen, and on it was a presentation of pictures illustrating each step of the way since February. I saw pictures of students using machinery at the shop in the vocational section of the building. They donned masks as they sanded off the original surface of the decks to prepare them for painting. There were also slides of the students working on them inside the art room.
I took my time to look at each individual board. I noticed that it wasn't just the painting and decoration of each board that set them apart, but the messages the students incorporated into their work. It was personalized, like a letter written to a pen pal across distance, with messages of hope and inspiration.
On behalf of Skateboards For Hope, the skateboarding community, and the future skaters of tomorrow, I would like to extend special thanks to the grade 9 art class for their time, creativity, care and energy they had put into this project. They were the first group of students to participate in this unique experience and two more high schools in New York and California were inspired by Rosemount High School's initiative also plan on exhibiting this summer. Thank you for your wonderful example.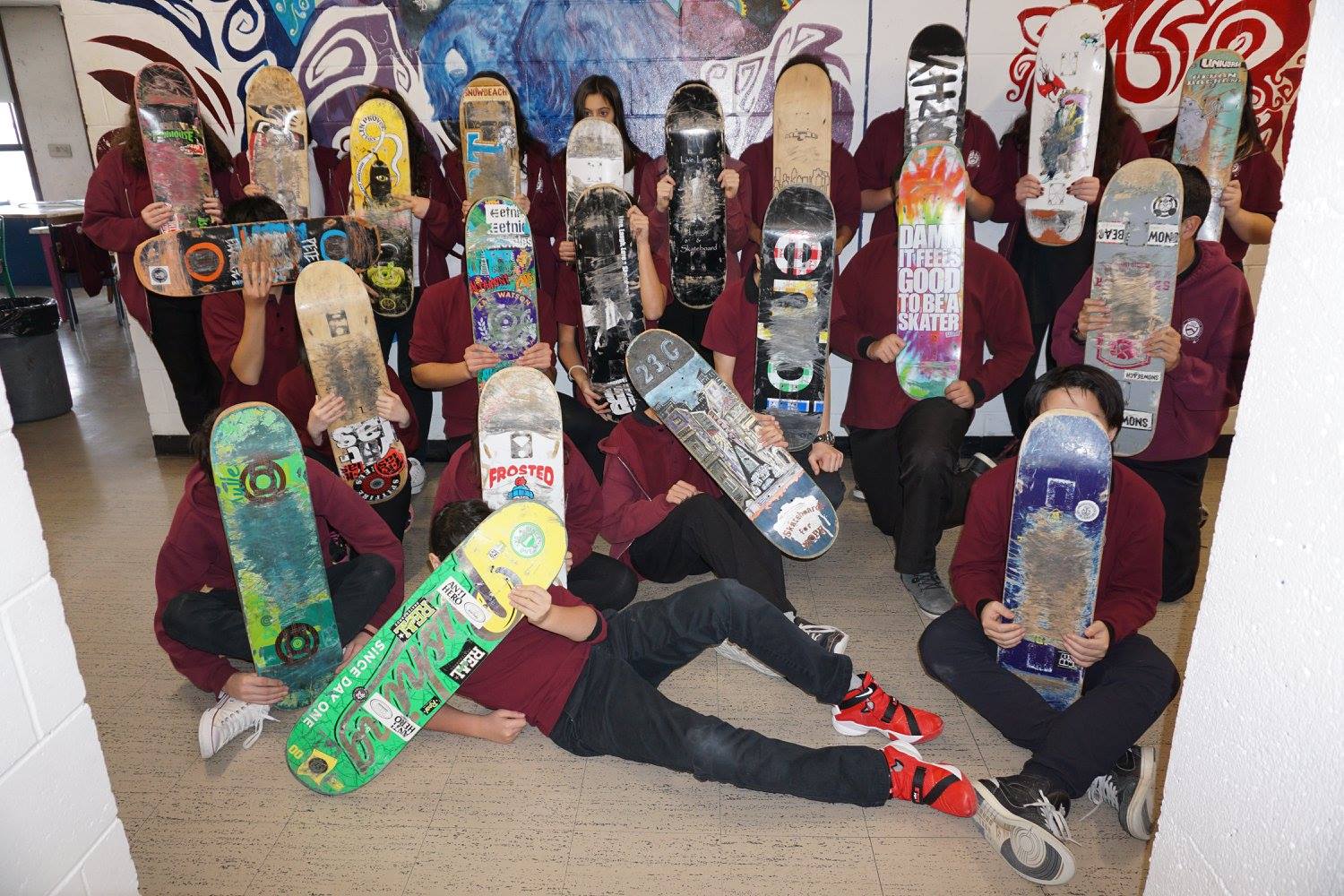 Tags: