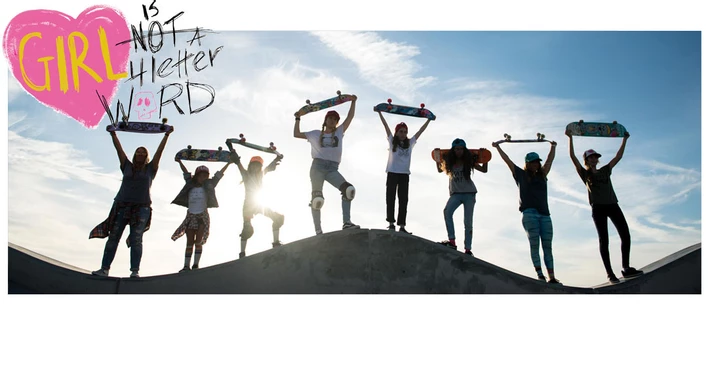 Photo credit Tom Fuller
Cindy Whitehead has been a major influence in the girl skate scene since the 1970s. She was one of the first female pro skaters in the USA, with a sponsorship from Puma. Cindy excelled in pool and half-pipe.
The founder of the all-girl skate movement 'Girl Is Not A 4 Letter Word' ('GN4LW', a merchandise website and social media platform), Cindy is dedicated to supporting females in action sports.
She is also a fashion stylist, having worked with companies such as Gatorade, Nike and athletes such as Maria Sharapova and Mia Hamm.
Cindy's varied accomplishments include being a guest speaker at a Ted Talk in 2014, induction into the Skateboarding Hall of Fame in 2016, and skating the most congested freeway in USA, the 405 freeway in Los Angeles!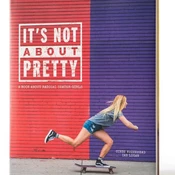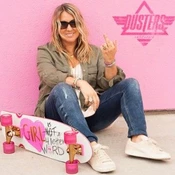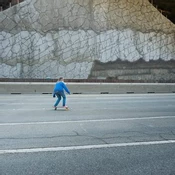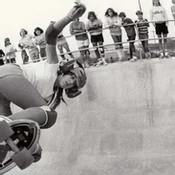 In 2017 she published the book 'It's Not About Pretty' in collaboration with Elise Crigar and Ian Logan. Cindy lives in Hermosa Beach, California with her photographer husband, Ian Logan. (Many thanks to Cindy for graciously supporting Skateboards For Hope.)
1. In the 1970s very few girls skateboarded.
What was it like for you personally, skating and competing in an almost exclusively male-dominated sport?
I never really thought about it back then, I just skated because I loved it.
I knew it was mainly me plus a bunch of guys and but it never deterred me or made me contemplate stopping. I always wished that there were more girls at the skatepark though.
2. When you were a teen, how did your peers feel about your passion for skateboarding?
You know, I am pretty good at surrounding myself with people who are on the same page as I am and those who are not, fall to the way side so I don't really notice that they aren't OK with it.
So it was the same back then, I had very supportive friends – male and female – and I think that is part of what kept me from thinking I was different, or I "shouldn't " skateboard. I also feel very lucky to have grown up my entire life in a small beach town (Hermosa Beach) where people were, and still are, very accepting and supportive.
3. How do they feel about it today with you working in the skateboard industry, and championing the girl-skate movement?

So many supportive people from all walks of life – it's so encouraging and motivating to see women who are at the top of their fields (non-skateboarding) support this movement. And support from male skaters has been extremely important and I am thankful for it every step of the way.
The largest male-dominated company in skateboarding, Dwindle Distribution, has had my back and the GN4LW brand in its Dusters California line up of boards for 5+ years now and been so supportive of our mission.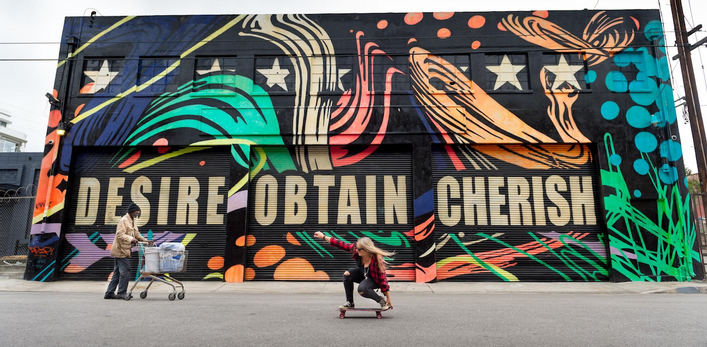 4. Are you encouraged by the progress the female skate scene has made since the 70s?
Two to three years ago my answer would have been different. This year it is 100% YES! So many girls out there shredding and just killing it. Brand support for them is reaching new levels; interest in women's skateboarding is off the charts and companies like Vans are making sure they have equal prize money to the men.
Male dominated teams are adding female riders, women at the pro level are starting to be able to make a living doing what they love – just like the top men have been able to for many years. That is HUGE progress!
5. What pleases you most about the situation in 2018, and does anything disappoint you?
The Olympics are coming and that is a great equalizer for women in skateboarding. It is also presenting new opportunities for the girls and a surge of interest in them. Companies that used to shun them now know they actually NEED them, as girls are the fastest growing demographic in skateboarding.
What would I like to see evolve? I'd like women to fully support female brands/ companies because what could be better than seeing girls & women support one another by riding female pro model boards, wheels truck, shoes, etc.? When women support pro female skaters products and brands led by women, it sends a message to shops, manufacturers, distributors, magazines and companies, that women have spending power and they are hungry for these products.
I'd also like to see the dynamic of only having one female skater on an all guys team – why just one? When women realize that there really is enough of the pie to go around, they will actually want to see it be 50/50 male/female on these teams – that is when we know things have really changed. Right now the idea of being the "token" girl may seem appealing, but is that what we have been fighting for all these years? No, we have been fighting for equality and that means just as many guys as girls excelling and reaching their goals as pro riders in this sport.
Take Burton Snowboards for example – they have a lot of female riders and a lot of male riders – is that a bad thing for the women? No, it means that Burton now can support more women in the industry and have an apparel line geared for women that sells, because of their female athletes – so it is a win/win. But until women in skateboarding see this, we will still be operating under the same old idea of "being the only makes it better for me". Same thing with Roxy & Quiksilver – it's the same brand but with different names for men and women's apparel & teams and they support a lot of rad women surfers – not just ONE.
Another example is; if there is only one woman surfing big waves consistently, for sure that's a great story and gets attention, BUT if there are seven women charging Jaws or Mavericks, that can create a contest and prize money and more sponsorship opportunities.
Which is better?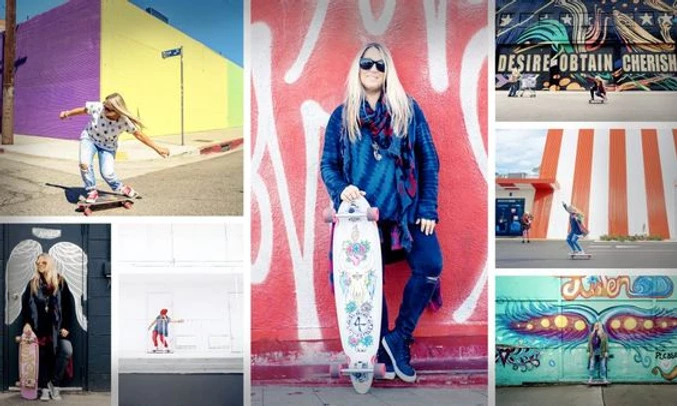 6. Girl Is Not A 4 Letter Word is a popular female action-sport media site, and merchandise company.
With today's rapidly changing outlook towards females, what are your goals for 2018?
Thank you for those nice compliments. I'd say we will be doing more of the same! Trying to keep up with the rapid growth in the skate industry with media pertaining to women. Encouraging and speaking to companies outside of skateboarding to jump in and sponsor these incredible female athletes. And as always creating our own content for our site and social media channels.
We also formed a small publishing company when we released our first book, IT'S NOT ABOUT PRETTY and have now published a second book titled CONCRETE GIRLS by UK based photographer, Charlotte Thomas, which will be released on June 29. We decided last year that we want to publish books that we didn't see out there and Charlotte's book fits that bill – it is the very first book ever published on the female UK skate scene and it's pretty rad.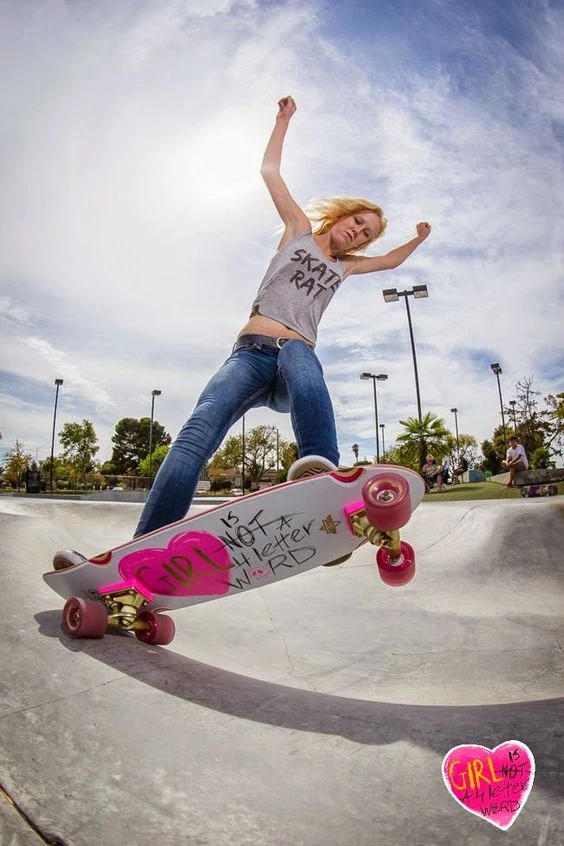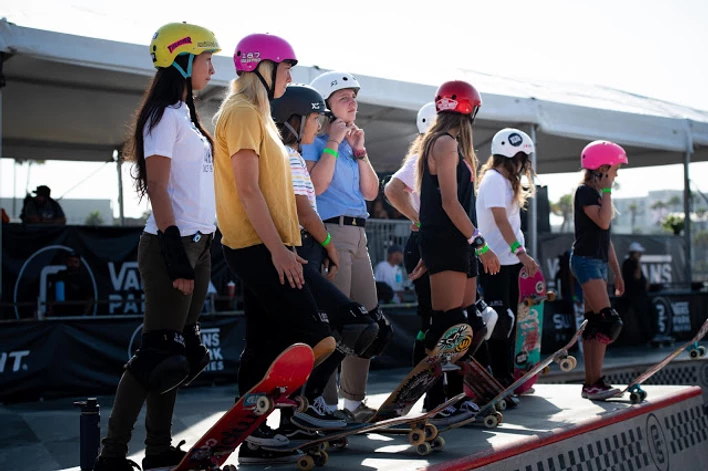 7. Do you have a geographic focal point for Girl Is Not A 4 Letter Word media and merchandise?
I think we lean towards women and young girls with our messaging but we have had men ask for our merchandise too, and we did a capsule collection for men in the past. Our brand is sold worldwide but we have teamed up with Diemen Distribution in Australia so we are growing rapidly in AU as well as the US right now.
The website gets traffic from all over the world because we try to include info and content about female skaters from everywhere, not just the USA.
8. As a fashion stylist you have worked with companies such as Gatorade and Nike, including celebrity athletes such as Maria Sharapova and Mia Hamm. What is fashion styling?
It's about finding and executing a look for a client, athlete, model or brand for advertising, editorial, commercial and sometimes even red carpet looks. People sometimes mistakenly assume that the athletes in ads and commercials are wearing their own apparel – that isn't really the case.
Everything is sourced by a stylist and racks and racks of apparel is brought in to find that perfect look that jumps off the screen. You need to be able to not only create a distinct look or vision but also learn what the client wants and work within that realm as well. It's not just "shopping" for sure.
9. What made you want to skate down the 405 freeway in Los Angeles in 2012?
I hate driving that freeway – I'm always stuck in traffic and when I heard it would be closed for 48 hours while they repaired a bridge, I knew it was something I wanted to do. I mean, who gets a chance to skateboard down a freeway?
It was smoother than I thought it would be and I picked up some speed even on a slight grade, which was fun. Evading police and trying not to get arrested just added to the adventure!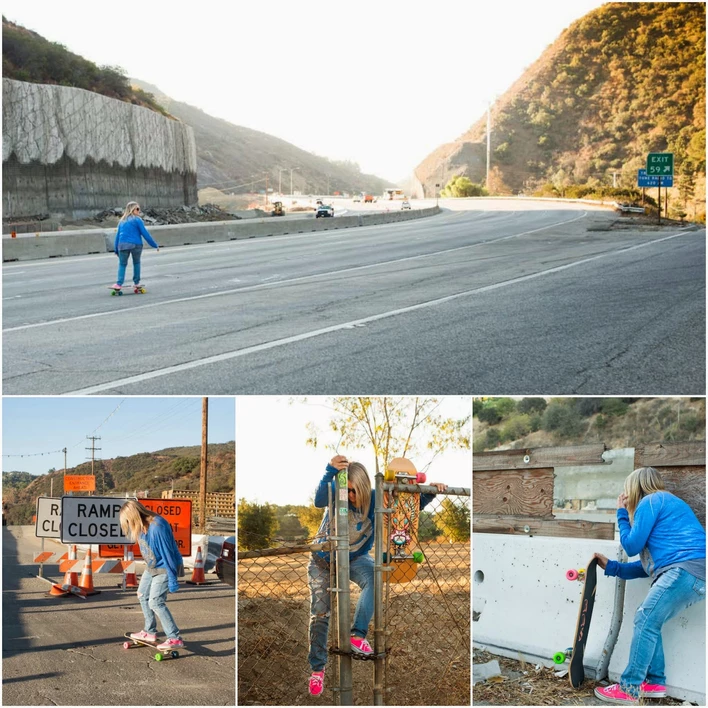 10. Do you still skateboard, and can we look forward to more freeway-outlaw behaviour in the future?
Yep – I will always skateboard. Not necessarily in bowls and parks anymore but I'll always be on my board in some aspect – strand, street, and freeways – wherever looks like fun.
11. Skateboarding is known for it's rebellious underground culture.
Do you think the underground/street aspect of skateboarding will be affected now skateboarding is an Olympic sport?

No because you will still have skaters who don't compete and like to skate backyard pools, ditches and even skateparks for fun. Very few people in the world compete at the elite level in skateboarding that these women and men do.
There is room for everyone. Not to mention a lot of pro female skaters compete at a high level AND skate anything and everything – so they do BOTH!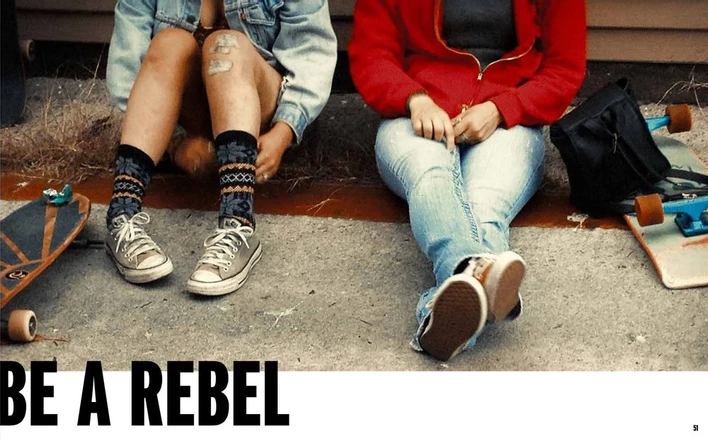 12. What is your worst injury outside of skateboarding?

I'd say getting too many stitches from bad cuts over the years – ranging from a rusty beach chair tearing open my leg to a cheese grater slicing off the top of my thumb. I've had a stick go into my foot pretty deeply and stepped on quite a few nails over the years.
13. The deck graphics for Girl Is Not a 4 Letter Word and It's Not About Pretty are colourful and modern.
What do you focus on when designing your merchandise, and how do you hope to impact your consumers?
I really try to design what I like and am feeling at the moment. I work with a creative director at Dusters and he has input as well. But all in all I really trust my gut and have a vision usually about what I want to say and the look I am after.
That being said it does need to fall under the realm of the Dusters brand. On other boards in the Dusters x GN4LW line up we bring in artists that I want to work with and we all three work together to come up with a board that we think is rad and girls will gravitate towards.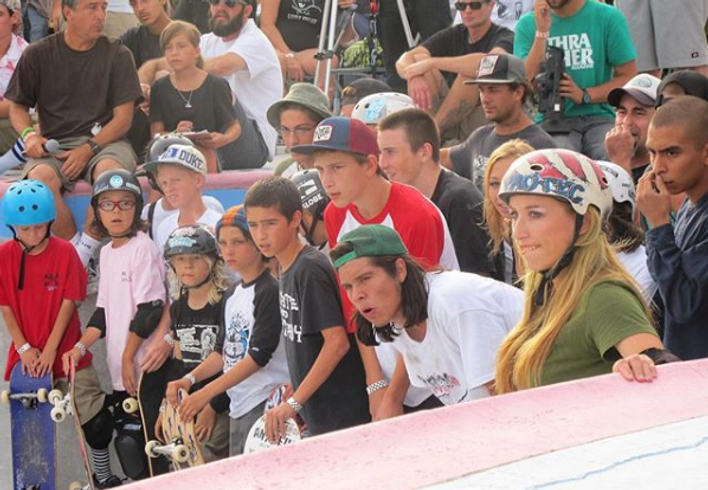 14. What positive advice would you give a female newcomer to a male-dominated sport?
Get out there and do what you love, you will find out that most guys are pretty cool and hopefully you'll find some like minded females to hang with too.
If all else fails, crank up the music, put in your earbuds or headphones, have fun and block out the rest! YOU GOT THIS!