Last February 13th, 2017, the frosty white snow lay untouched across the property aside from the paths cleared towards the inviting front doors of Rosemount High School. Our boots crunched against the snow as Betty Esperanza and I approached the building with our breaths hanging in the air on that beautiful and clear Monday afternoon. We navigated the hallway to find the office. I could hear a nearby student voice his enthusiasm for skateboarding as he spotted my skateboard strapped onto my backpack. We finally made it to the the art room where we met their teacher, Sabrina Bejba. She had been a teacher at Rosemount for about 6 years, where she taught Visual Arts to grades 7 to 11, Ethics and Career Explorations.
She had taken the initiative to pick up 30 skateboard decks during a snow fall. There they were all laid out on the art tables awaiting her grade 9 students, who were still having lunch.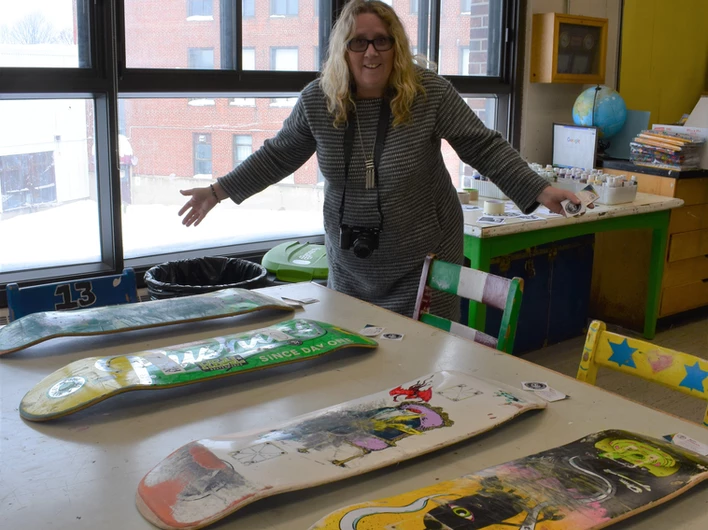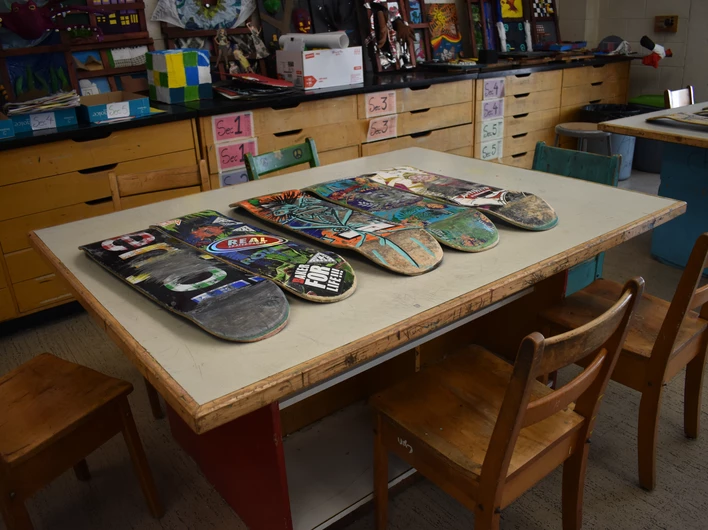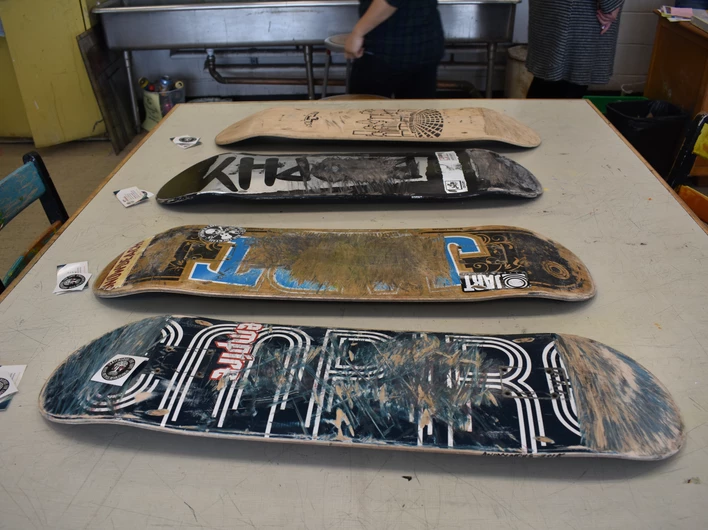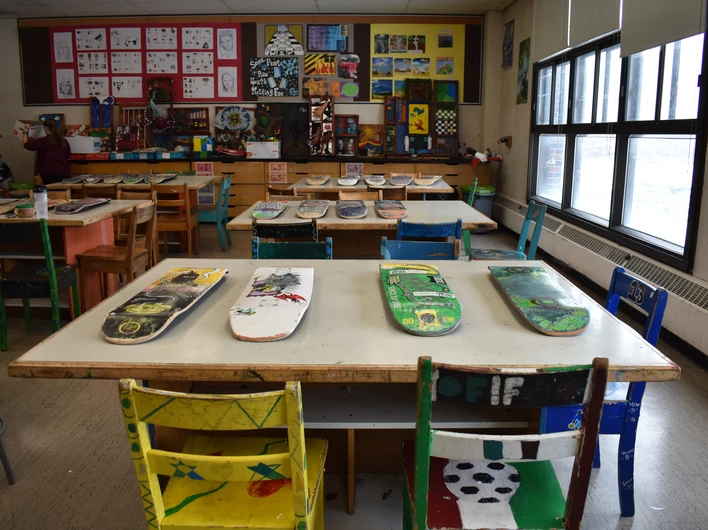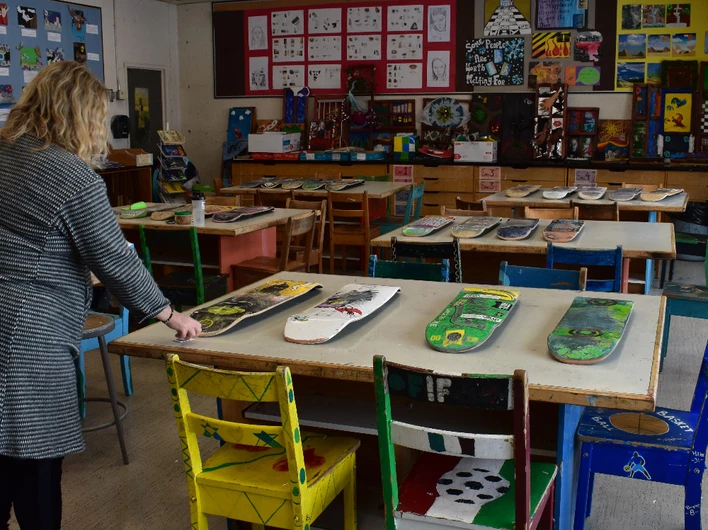 As soon as the students filed into the art room, the sight of the decks sparked excitement and an eagerness to begin. Betty had planned a little video presentation for them. She brought to their attention the skate community in Havana, Cuba that she had recently visited over the winter holidays.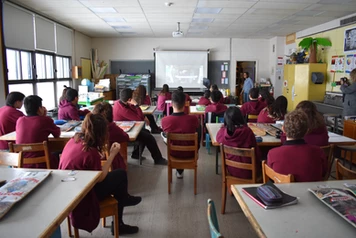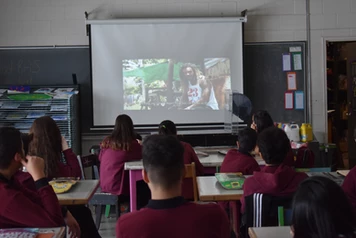 She explained how the different chapters she set up in Havana, Cuba and Gulu, Uganda all started off small, but with the help of volunteers and community, her dream started to grow as others joined in her cause. With her leadership, these underprivileged skate communities in other countries learned to skate with the donations of skateboards from our local community. "Do It Yourself" or "DIY" skate parks started to take shape over the years, especially in Cuba where they used whatever materials they could find to create a place to practice. These skateboarding communities continued to progress towards self sustainability as the years passed.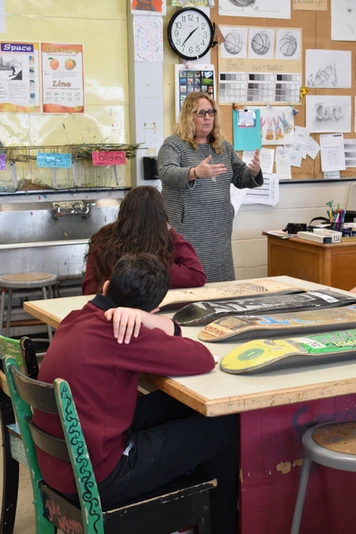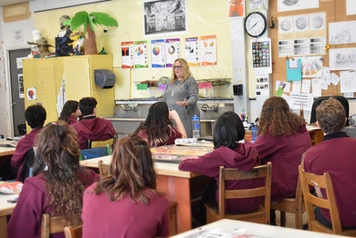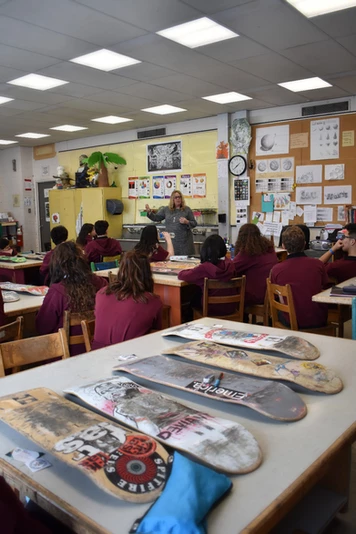 I stood attentively behind the students as Betty continued, until it was my turn to share my story. I was one of the many skaters whose life improved through skateboarding. I had a long battle with depression, anxiety and post traumatic stress disorder, and I started avoiding going out as much as I could. I had my share of therapy, group therapy, and medication, but the one thing that set my life back in balance was skateboarding.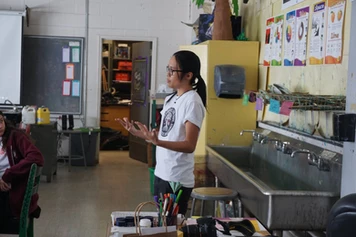 Through skateboarding and social networking, I was absorbed into a skate community in which I often did my best to contribute in any little way I could. I took any opportunity to encourage others to skateboard and to keep skateboarding because of its ability to help people grow and to develop important life skills and healthy values. I was passionate about skateboarding and about helping others. Through that same community I found out about Skateboards For Hope. I met Betty for the first time when I donated my first complete set up and spare sets of wheels at the Fresh Hope exhibit.
I expressed to the students how Betty showed me my strengths when all I could see were my weaknesses while in an emotionally fragile state. She told me that she liked my style of writing and invited me into the Skateboards For Hope team. From that point, I started to believe in myself more and I felt a sense of belonging that I haven't felt before. I became their brand ambassador.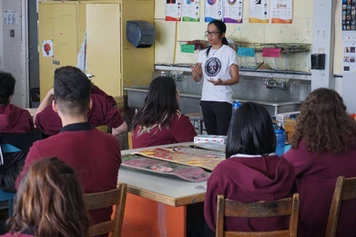 I reminded the students that everyone was relevant and that every single person had the power to make positive change in their community. They could start with their immediate community, which would be their classroom and their school. They could try to treat each other better and work together to encourage an enriched learning environment to carry them towards graduation. We all learned that Betty's little dream of bringing skateboarding to everyone started small and continued to grow. We all possessed the power to lead by example.
So how did Skateboards For Hope drop in for a class session?
There had been a general interest in the graphic designs of skateboard art among the grade 9 class at Rosemount High School. The students started to collect decks to initiate their own independent art project.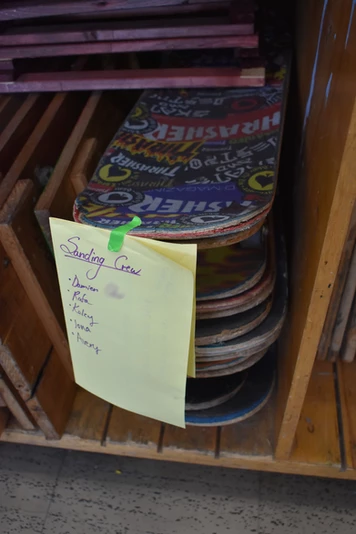 To inspire her class, Sabrina Bejba decided to take them to the Fresh Hope exhibit where she knew some of the artists that were being featured at that gallery. Her pupils were curious as to where the boards were going to after the exhibit, and that was how she found out about Skateboards For Hope. Those 40 unique decks on display were to be set up for skating and given to 40 deserving children by our organization. Sabrina managed to contact Betty to propose a collaboration between her class and Skateboards For Hope. With much organization and generosity from the skate community, 30 boards were collected for this unique project. Sabrina said, "[she] felt that [her students'] connection to the project would be strengthened if they knew their art was going to be gifted to another person." It seemed the entire experience at the gallery really did inspire these young artists. Sabrina informed me that, "they have been working on their sketches and designs. A few students [would] be helping [her] sand the decks at the cabinet making department at Rosemount Technology Center. [They would] prime them and they [would] begin to work on their paintings. [The] students [would] learn how to create their own stencil and sticker for their skateboard."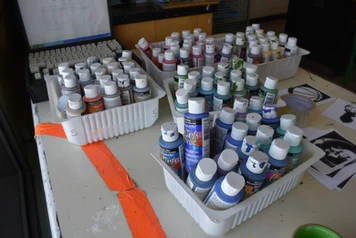 Skateboarding had always helped skaters find their sense of direction in their personal lives as well as their professional lives. Not only did communities start to form around the activity, but it paved the way to exposing each other to many other hobbies and interests. For some, it could exercise creativity through photography, film, and art. It could encourage an interest in more technical skills like carpentry and welding. Sabrina stated that, "Street art and skate culture [was] very relatable to them and many [had] clearly expressed that they [wanted] to paint two skateboards. One to donate and one to keep for themselves. The fact that many of them [were] already motivated to do extra work speaks volumes."
The students will be displaying their completed decks at Rosemount High School on Friday, May 5th, 2017 from 3pm-7pm for those who wish to see their creations.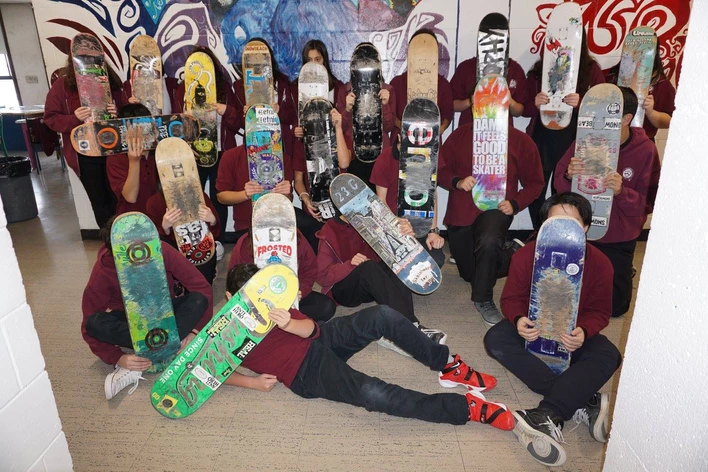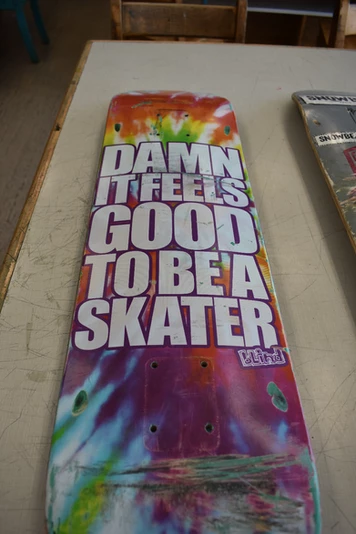 https://www.skateboardsforhope.com
https://www.facebook.com/SkateboardsForHope